Hey everyone,
We recently updated and published rescript-vscode (1.0.7) and vim-rescript (1.4.0) with our newest autocompletion features, and some other small tweaks.
Installation
VSCode: Go to your extensions tab and update your rescript-vscode installation.
vim-rescript: Check out the installation section in the README
Features
Pipe (->) Autocompletion
Our plugins are now capable to autocomplete functions for -> pipe: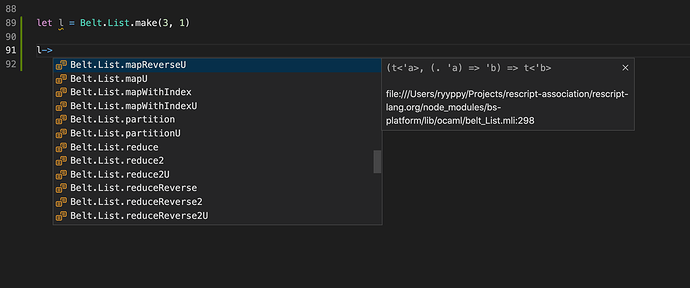 Please note: value-> will autocomplete only when value has type M.t for some type t and module M. More concretely, this means that [1, 2]-> does not show you suggestions for Belt.Array.xyz because [1, 2] is of type array<> and not Belt.Array.t. Consider this an early iteration of this feature, which will be improved in the future.
Function Label Autocompletion
Our supported editors will now also autocomplete the names of labeled arguments used in a function call:

(As always with our IDE integration, first make sure to compile your program with the labeled function before trying to use the autocompletion, otherwise our editor-support doesn't know the labels exist)
Support for the upcoming rescript npm package
We are currently in the process of migrating to our new rescript npm package, so we made sure that our IDEs will continue to work, no matter if you are still running on bs-platform, or already using the new rescript package.
Changelogs
For smaller fixes / tweaks, check out the relevant Changelog files: