I'm creating my first "serious" project in Rescript using React + NextJS and it's has been a great experience.
I know there are already projects that created bidings for NextJS in github. But I'm creating my own bidings as a way of learning.
So I was typing the <Link> component and it has this href property that has two possible types:

Following the example they gave for the case of being an "object", in my project the typing was like this: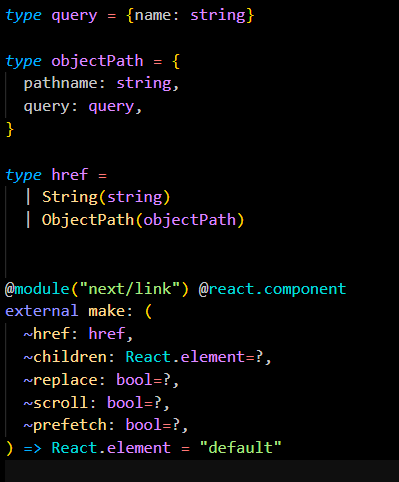 That's more or less where I stopped. I've tried looking up material about it online, but the examples are all so complex that they seem to run away from a "simpler" case like this one. And I know that in practice, I'll end up passing a string to the href in 99% of cases (that's how they typed it in github projects). However, it is still a learning opportunity and can be used when I deal with more complex data.
I have a vague idea that I should use a switch here. But I have no idea how.
If it serves as a reference, the declaration of the component looks like this: